Meet Cynthia D'Amour, MBA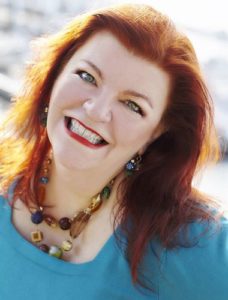 Here are a few things about me that will help you better understand where I'm coming from in my work.
I spent a few years teaching 8th grade history.
I loved making history feel real for my students and found ways to immerse them in a different century.
We did things like try Columbus for high crimes against humanity using a formal mock trial. My students researched their testimonies and dressed the part.
The lawyer teams were intense with their cross examinations and I often had a real lawyer or judge presiding for the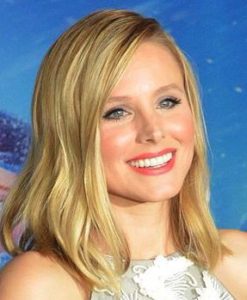 case.
My most famous student was Kristen Bell – I taught her everything she knows.

As a teacher, I honed my hands-on, high-energy style of presenting which I use whether speaking to a handful of people or a few thousand.
I am a Modest Hawtie.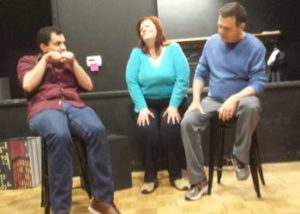 Modest Hawties is the name of my improv troupe. I practice and perform with them when I'm not on the road.
What I love most about improv is having to push down my filters and play with whatever comes my way. To be successful you've got to stay in the moment, listen intently and trust your team has your back.
Improv is a fabulous language of metaphors to use for leadership. I use improv exercises a lot when I speak. Everyone gets on their feet, has fun – and learns some fascinating insights about leadership.
Marketing is my second language – thanks to my dad.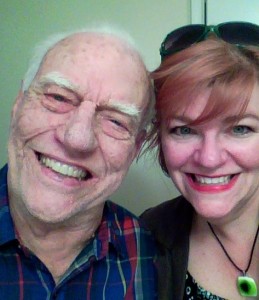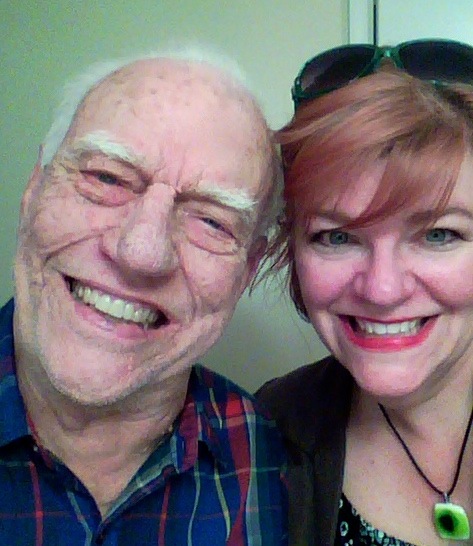 My dad was a brilliant marketer at Ford. As soon as I could talk, he started to teach me the mindset and language of marketing.
For the longest time, I thought all little girls competed with their dad's in writing letters to companies requesting certain actions.
For quite a while, I was a quite a direct mail writing queen.
My average response to a cold list was 17% and my record was 32%.
(For those not fluent in direct mail, getting 2% of people to take action to a letter out of the blue is considered a fabulous return rate.)
My dad and grandpa both drilled me on being able to switch points of view around an issue. They believed being flexible and understanding impact of impact of impact was key to a good life. Thanks to both of them, I've always been good at spotting trends extremely early.
I'm now teaching others to be fluent in the future with my reading the waves of change work.
I am an avid Michigan Women's Basketball fan.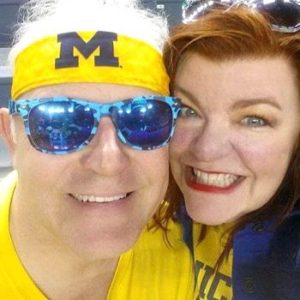 For the last five years, James and I have been season ticket holders for the games. We sit right behind the bench and feel like we are almost part of the team – at least in an emotionally kind of way. There's no way I could keep up with those amazing athletes who just won the 2017 WNIT National Championship!
I love watching this team grow – and defy traditional rules. Some of the women from last year now hold basketball records at Michigan. Not just for women. For ALL athletes who play basketball.
The athletes are wiling to be that good. I can't help but think how their willingness to be more can impact so many other aspects of our lives.
I LOVE to learn!
I've been a big reader ever since I learned how to read. I loved being able to try-on other people's lives for the length of a book. I could travel through time, have fabulous careers and be whomever I wanted to be.
For a while I collected college degrees.
I have a degree in marketing. A masters equivalent in teaching. And an MBA customized to association leadership.
Now, thanks to technology, like you I can learn at will. My current fascinations include:
The future – I love to learn about technological developments then spin them out to see how they might impact my life.
Maximizing engagement for virtual programs like webinars using technology anyone can use. In other words, how to make programming interactive and fun rather than talking heads.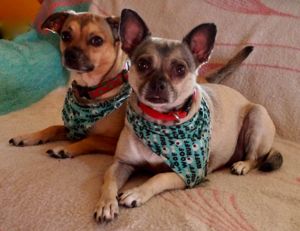 The power of how we frame our world – my mind works in a global abstract way so I'm always putting odd pieces of information together in ways that make sense. How people choose to frame their worlds can have resounding impact on quality of life.
Finally dogs. My two girls, GiGi and Ruby are masterful teachers. They are totally in the now – and think I should be there too!
I can go on and on. I'm curious and intrigued by a lot of life. One of the favorite perks of traveling to speak at events is all the people I meet on each adventure.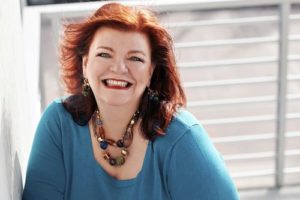 That's a little about me.
I've got a formal bio too that highlights my 20+ years of helping associations get more members involved and leaders be more successful.
The seven books I've written like The Lazy Leader's Guide to Outrageous Results. And other typical claims-to-fame showcasing why I'm at the top of my game.
Thought this was more fun to share – besides, given all the disruptions and resulting waves of change, it's good to get used to information in unexpected packages.
Got thoughts you want to share with me?
Interesting insights I might enjoy? Perhaps book me to help your organization think in new ways or leaders lead better? You can contact me here.