Don't Jump So Far From Me!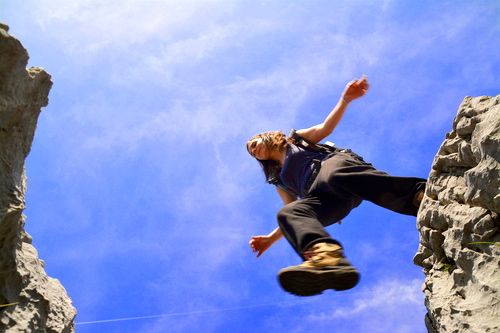 What follows is a learning-curve story.

(Should help you get farther faster with your members.)

For more than 20 years, I've worked with chapter leaders and presented at association leadership conferences.

When I offered a free 30-minute webinar about reading the waves of change, I expected chapter leaders to jump to sign up – like they usually do.

All of the disruptions and resulting change is serious stuff. The future is a great unknown.
Every CEO, staff member, association leader AND chapter leader should understand at least the basics of reading the waves of change.

The chapter leaders were surprisingly slow to sign up.

They thought reading the waves of change was interesting - and not very relevant to them at the chapter level.

I was surprised.
How could chapter leaders think learning to read the waves of change was not important to them?

Then I thought about improv…

In improv, at the start of a scene, someone may ask for a get.
What is a theme of life? Favorite food? A relationship? A place you love? Or one you don't?

Upon hearing the selected answer, the improvisers begins to create a set of stories based on the offering from the audience.

One of the improvisers takes the lead and starts the scene. They might be very direct and use the exact word the audience offered up.
Or they may take it from A to B. If you mention Hawaii, I kick off with a honeymoon on the beach, being leied at the airport or watching the hula dancers at sunset.
All leads have a logical connection to the audience suggestion.

In improv classes, they train students to work on going from A to C. While we may identify B in our heads, we lead with C and hope the audience comes with us to figure it out.
For example: Hawaii means honeymoons, which also means eventual divorce to a pessimist. Getting leied could trigger an allergic reaction so you start complaining about allergies and so forth.
There's always some connection to the audience suggestion. The improvisers leading just skip B and come out with C.

While that works great for comedy, when you are taking people into a stressful unknown, one of the keys to keeping them moving forward in sync with you is to not make them think.
Everything should be clear as a bell.

My passion for wave reading made the jump in my copy go from point A to point C - or maybe even D.

I didn't bring chapter leaders with me and make reading the waves of change relevant to them TODAY.

(Awareness is the first step in leadership and marketing.)

I circled back.

How would reading the waves of change help them as chapter leaders today AND into the future?

I put on my creative-thinking tiara and came up with five reasons why learning how to read the waves of change would help chapter leaders make their chapter irresistible.

If they learn and apply the skills I'm teaching, they will attract more volunteers, have more people at events and get more done with less effort.

(You can see how I built my case with all five points focused on chapter leaders here.)

Easily-understood relevance is critical for taking your members into the future with your association.

When you promote your future efforts (or even your current products and services) how do you showcase easy-to-understand, relevant importance for members?

Your homework is to:
Check out the specific appeal I created for chapter leaders.
Identify at least one area in your association where you can use a more easily-understood, relevant-benefits approach.
If you are adventurous, tweak your copy and see what happens.
I predict you'll be pleasantly delighted at your insights from the exercise and results thanks to the the simple edits you make.
You are not alone in figuring this all out. We will face the future together.
- Cynthia
If you want these posts sent to your inbox on Wednesday mornings, sign up for Wake Up Wednesdays!
Latest Posts from
Cynthia D'Amour