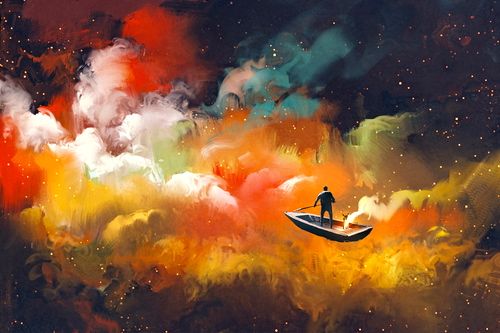 Have you ever read an article or an email where the author writes on and on and on?
A paragraph is like a mile long - and no matter how interested you are in what's being said, your eyes get into lift off and scanning is activated.
You pick up speed as you fly over the big block of copy - it's become a BLOB of gray space.
If the information is important, you may chastise your brain for shifting to skim.
You go back to the beginning. Start wading through the copy. And, darn it all. There you go again. Scanning for something important.
When reading copy online - especially on one's phone - using shorter paragraphs is super important.
Even if it means making one-sentence paragraphs.
Your 8th grade Language Arts teacher may be horrified - and your copy is getting read.
The skipped lines break up the gray blob with white space between paragraphs.
The white space causes your brain to slow down and reengage in real reading.
(After all, everyone knows the important stuff is in the first sentence and the last!)
The pause in copy is critical to get copy read and understood.
The same thing is true as you face all the challenges, new strategies, stress, resistance, concerns and more from the disruptions and changes we've been talking about for the last few posts.
Wondering if your association will be one of 50+% dead or dying by 2030 will escalate the volume of thoughts spinning around your mind.
If the activated fears get big enough, your survival mechanism will kick and start to shut your system down somehow to get relief.
You may find yourself consumed in operations and focused simply on getting through the huge pile of work you have for today.
With barely enough capacity to clear your to-do list, you have no room for strategic thinking.

Your mind celebrates the relief from being justified leaving the future for tomorrow, next month or maybe next year!
Maybe you are one of the tough leaders...
You can handle the overwhelming workload, the fears of the future and even periodically say, "Hello" to family and friends.
However as days grow into weeks and possibly months, your survival mechanism may activate the second line of defense and mess with your immune system.
Colds, flu and feeling like a truck has run over you sends you reluctantly to be where you are forced to do nothing but sleep.
You are hardwired to survive - and your body will do what it needs to so it can protect you.
Thus the power of the pause.
As you delve into the great unknown thanks to all the disruptions and feeling like your association has settled on constantly shifting sand that wants to suck the life out of you, it's important to take periodic breaks from it all.
Pausing in a world of stress is an easy way to allow your mind to reboot.
You need to embrace a practice of white-space strategies.
You can't avoid all the changes - it's our new way of life and is going to keep accelerating.
Being forced to shutdown by your body is a drain on your productivity.
It's time to create a regular white-space practice.
Some white-space creating actions...
Self-care creates white space.
Whether it's a meditation session, a hot bath and massage or reading a good book, all give you the opportunity to just get away.
Make it priority to schedule regular self-care on your calendar at least weekly if not daily.
Having fun creates white space.
You might get away for a social event, call a friend - or simply take a laughter break as you watch some videos on YouTube
Create a list of at least ten ways you can have fun. When you feel your mind shutting down, you'll have potential white-space actions ready to choose from.

Connecting with nature creates white space.
Sometimes the best thing you can do is go outside and walk around the block.
Get some fresh air.

If it's the right time of the year, take off your shoes and walk barefoot on the grass.

Listen to the music of nature around you.
If it's not reasonable for you to go outside, take a few minutes, close your eyes and imagine you are there.
Or pull up a nature video on YouTube to help whisk you away.
Reactivating your senses gives your brain a break.
No matter how you do it, you need to identify some white-space actions that work for you.
When you are supremely stressed, your mind cannot function at its best. Your work is less than stellar. You won't be able to solve the world's problems.
(Even if you feel like you have no time, a five-minute reboot will do wonders for you.)
Become more aware of your body.
When you start to feel your body tightening and contracting, it's a sign it's time for you to activate your white-space strategy.
Learn to notice when the shift starts rather than requiring your body to escalate to screaming with head throbbing and eyes rolling in the back of your head.
The more you become a partner with your body, giving it the white space it needs, the easier it will be for you to handle the bigger challenges in life.
As a leader, you need to take care of you - plus look out for your team.
When you ignore your team's white space, you'll notice missed deadlines, shoddy work, grumpiness - and more people calling in sick.
Do a combination of entire team white-space actions as well as promoting individual white-space practices.

Your members need white space too.
If your association feels constantly in a state of flux, it doesn't feel good to members.
They are already facing many of the same disruptive changes in their own lives.
They are (or will be) coming to your association for relief - NOT additional stress.
When members don't know how to be successful or are constantly scrambling thanks to seemingly never-ending change, it doesn't feel good.
Members vote with their feet (and virtual eyeballs) to check out.
To prevent members from disengaging and perhaps leaving your association, periodically find ways to give them some white space.
For members, try...
A pause to appreciate all the association is doing.
A social event to remind them of the love they have for the association and each other.
A celebration about surviving - or even making fun of - all the changes going on in your association.
A special self-care program or option at events to help members learn to relax into the changes surrounding us all.
There are many ways to create white space for members.

The key is to help manage their stress relevant to your association so they do keep coming back.

Start now.
As a leader, be aware the need for white space is going to continue to grow - especially as the disruptions continue to pick up momentum.
Starting early to build a practice of white-space strategies will make it easier to use as the future descends upon us.
Pausing is not a waste of time.
It is more than just life balance. Pausing is key to thriving in dramatically changing times.
It is a powerful way to keep yourself, your team and your members functioning as well as possible during times of high strategic demands.
What are you and your association doing to embrace, teach and encourage the use of white-space strategies?
Take a deep breath...
Yes, all this change is a ton to think about - and even more importantly to take some kind of resulting strategic action.
It can feel overwhelming.
You've got this. We'll do it together.

Over the next few weeks, we'll continue drill down into a variety of concepts to help you in your quest.

Yours in Finding the Future That Rocks!

- Cynthia
If you want these posts sent to your inbox on Wednesday mornings, sign up for Wake Up Wednesdays!


Latest Posts from
Cynthia D'Amour