Have Cynthia D'Amour, MBA Speak at Your Next Event
Clients - Comments - Book Cynthia Now - FAQs
Whether you're looking for a keynote, half-day or full-day program, Cynthia's high-energy, how-to style is a dynamic addition to your event.
She's also a strong facilitator for leadership retreats and strategic planning days.
Cynthia taps her teaching experience, MBA studies and improv training to bring cutting-edge content and strategies to your participants.

NEW Program for 2017

Improv Your Way to Innovation

To explore innovative ideas, you must first get people beyond, "That's how we've always done it!"
The challenge? Our brains LOVE to run on automation. It takes conscious effort to move people beyond their ruts.
Enter the power of improv...
Improv helps people lower their shields, lean into a more fun space - and open their eyes to new options. In this hands-on session, Cynthia D'Amour, MBA, will take you through improv experiences to help you open up - and that you can take back to use with your team to get beyond the hidden roadblocks to innovative ideas. Come ready to play, laugh and learn together.

As a result of this session, you'll be able to:
Understand the common unseen roadblocks to innovative conversations.

Help design a safe space for your team to explore innovative concepts.

Create experiences to springboard creative conversations.
Come ready to laugh and learn simple improv exercises you can use right away!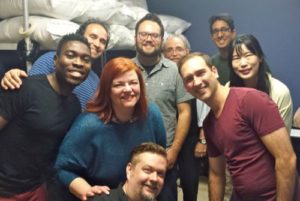 NOTE: Cynthia performs improv regularly in Metro Detroit with her improv troupes. She finds improv exercises to be a powerful set of tools for fun and life.

This description is just an example of how your participants can benefit from an improv experience. It was a big hit at ASAE's Great Ideas Conference. Cynthia will design an experience to fit the goals of your meeting.
Explore Cynthia's Chapter Leaders Programs...
Cynthia delivered her first training to volunteer leaders when she was a senior in high school - and hasn't stopped since!
Cynthia gets what it takes to be a successful volunteer leader.
She's served more than 67 total years on volunteer boards.
Plus recruited more than 250 members to various organizations.
Cynthia is always a crowd favorite.
Leaders love how Cynthia has walked in their shoes.
They have fun as they learn.
Plus Cynthia gives them specific ideas they can use right away.


How Cynthia works with clients: You and Cynthia will talk about what you want from your program. Cynthia will design a special program for your event.
For those of you wanting some ideas about what Cynthia's been working on, here are some of her recent programs:
(Trend alert: All of the programs below included simple how-to's leaders can use as a chapter leader - AND at work. Association-only information is not enough for today's participants.)
Make Being a Leader Irresistible in Your Chapter
Do you struggle to find people willing to serve on your board?

Tired of recycling the same leaders year after year?

Burned out by serving for too long?
It doesn't have to be that way.
Your chapter can be a magnet for people excited to serve as future leaders. Cynthia D'Amour, MBA, author of The Lazy Leader's Guide to Outrageous Results will teach you a simple three-part approach to making being a leader in your chapter irresistible. You'll learn how to promote serving on your board as an exciting thing to do, how to create a dynamic team of future leaders - and prepare them to step up into leadership with ease.
As a result of this program, you'll be able to:
Make current board service more attractive

Identify a corps of future leaders eager to serve

Set your next chapter year up for easier success
Come ready to have fun and learn simple, how-to ideas you can start to use right away.
Get More Volunteers NOW!
Are you tired of…
Having to beg folks to volunteer?

People promising to do work—and then nothing?

Feeling like you are doing it all?
Do you wish you...
Had more volunteers?

Had more time?

Could get more work done with less effort?
If you answered "yes" to any of these questions, help is on the way!
Cynthia D'Amour, MBA, Leadership Strategist and author of The Lazy Leader's Guide to Outrageous Results will teach you how to get more work done through the involvement of others.
As a result of this program, you will be able to…
Get more work done with less effort


Speak the language potential volunteers understand

Turn "I don't have time" into "I can't wait to volunteer!"
Come ready to roll up your sleeves, have fun and learn simple, how-to ideas you can use as a volunteer, in work - and in your life.

How to Run Effective Meetings -
No Matter Who Your Volunteers Are!

You can't always choose the people who volunteer for you. They are a cast of characters who bring their special ways and sometimes baggage to your table.
As a leader you need to be ready to lead all types – and make sure they get value for showing up as well!
Join us to discover how to be the leader members can't wait to volunteer with. You will learn strategies for leading diverse teams as well - as how to deal with all the characters at your table.
As a result of this program, you will be able to:
Support the development of your team.

Thrive given the diversity of your volunteers.

Facilitate strategic conversations more smoothly.
If you want your volunteers to show up for your meetings eager to participate and ready to get to work, this is the session for you!
Make Your Meetings the Must-Attend Event

Do you wish you had members eagerly showing up for your chapter meetings?

Are you tired of seeing the same faces at every meeting?
Join Cynthia D'Amour to learn how to create magnetic meetings experiences that keep your members coming back.
You will learn how to:
Use the key elements today's members are looking for in meetings

Deliver program promotions that make members want to attend

Create dynamic experiences members that hit members' hot buttons
You'll also leave with several meeting ideas you can start to use right away.   
Delegate So the Work Gets Done
Do you delegate work to volunteers?

Do volunteers do the work they promise to do?

Before the next meeting?
If you answer "no" to any of these questions, and you are tired of wasting time at another meeting where nothing is done, it is time to polish your delegating skills.
Being a solid delegator is the key to getting the work done after the meeting is over.
Join Cynthia D'Amour, MBA to explore what it takes to delegate so others do the work - rather than fall back on you!  You'll discuss a four-step model for delegating, how to create experiences members will actually do as well as common traps to avoid.
As a result of this program, you will be able to:
Delegate with confidence

Avoid common delegation mistakes

Increase meeting effectiveness by having more people show up with the work they promised to do done.
If you want your volunteers to do the work promised, this is the session for you.  
Get Beyond "We've Always Done It That Way"
You want to try something new. You present it to your team.
The first thing you hear... "We can't do that. We've always done it this way!"
What's a leader to do? You can't force volunteers to change – you have to make it irresistible. Join Cynthia D'Amour, MBA, to learn a simple, 3-part model to make leading change easier to do as a volunteer leader.
As a result of this program, you'll be able to…
Wake members up to the need for change.

Help them identify where they need to go.

Firmly secure the new way as "the way we do things now!"
You'll walk out with a new sense of confidence in dealing with members who always resist trying something new - as well as an action plan to apply to an issue you want to change!
Give us a call at 734-994-0097 for more information and/or to check Cynthia's availability. Or fill out contact form here.
Clients - Comments - Book Cynthia Now - FAQs